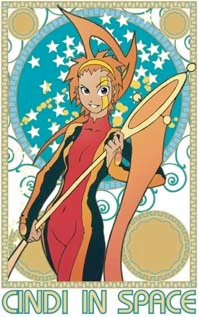 The first comic is Cindi in Space and is aimed specifically at students in grades 6 to 9, while the second comic, Cindi in the Electric Atmosphere, is targeted at high school students.
Cindi in Space introduces the android spacegirl Cindi and her two space dogs. They explain the Earth's upper atmosphere along with the purpose of the NASA CINDI instruments astudying the upper atmosphere as part of the C/NOFS satellite.
We hope that readers of all ages will find the comics fun and informative. The first two issues are 24-page booklets that are downloaded as a pdf file via the links below. 
Cindi in Space,  English: [Color | Black & White] 
Cindi en el Espacio, Spanish: [Color | Black & White]