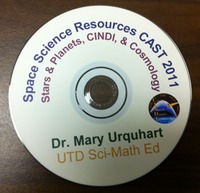 SPECIAL CAST 2012 CD NOW AVAILABLE
The Space Science Resources CD we give out at science education conferences with all of our material is available here for downloading.  The download contains a 582 MB compressed file that will expand to a 669 MB folder with all our handouts, videos, comic books, and presentations. These files include not just the CINDI material, but also UT Dallas Cosmology materials for middle and high school, the middle school Stars and Planets curriculum, Scale in the Solar System, and more.
Please note that the material in the compressed file is as it appears on the CD compiled in 2012. Newer resources mentioned or available on this site are not in the compressed archive.